While hardwood used to be considered the gold standard of home flooring options, today's homeowners have fully come around to the idea that vinyl plank flooring is more than just a hardwood alternative; it's actually the preferred choice in many settings.
Vinyl plank flooring is both aesthetically pleasing and functional. It's come a long way over the past several years, and today's best luxury vinyl plank flooring so closely resembles its wood counterpart that only the most discerning eye would be able spot the difference.
Why Someone Would Choose Vinyl Plank Flooring Over Hardwood
Vinyl plank flooring is practical, versatile and affordable. The most compelling reason to choose vinyl plank flooring is that it is completely waterproof. It is also scratch-resistant, anti-static and easily used on a variety of underlying surfaces.
Hardwood has appeal because it "feels authentic," and it's true that a gorgeous wood floor is still an often justifiably preferred choice by homeowners. But the price you pay both in terms of price and upkeep are significant. Hardwood floors can only be cleaned with certain products. They can be buffed but not over-waxed. Excessive foot traffic or furniture movement can quickly turn that beautiful hardwood into a permanently damaged floor. In short, the list of wood's demands for proper upkeep is a long one.
Vinyl plank flooring eliminates most of these concerns. It's not only lower maintenance, it's also available at a fraction of the cost.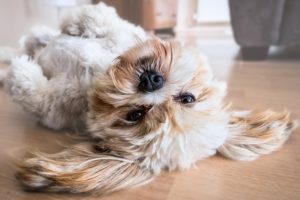 Dog Owners Love Vinyl Plank Flooring
Your dog can wreak complete havoc on your floors. Anyone that has cleaned up messes on carpet or hardwood has repeatedly learned this lesson the hard way. Here are a few of the reasons why dog lovers prefer might benefit from choosing vinyl plank flooring:
It is water and scratch resistant.
It is easy to maintain and clean.
It is softer than other non-carpet flooring options.
The Evolution of Vinyl Plank Flooring Gives Homeowners More Options
Today's vinyl plank flooring comes in a variety of options. The higher end varieties impress even the most seasoned professionals. This means that you have plenty of flexibility when choosing your vinyl plank or vinyl tile floor. If you have the budget and want something that is almost indistinguishable from hardwood, there is an option for you. If you want something more affordable but still want a beautiful floor that is easily maintained, you can find what you need in vinyl.
Many homeowners choose hardwood flooring in parts of their home and go with vinyl plank in others. For example, kitchens, basements or areas that will see higher traffic and potential water exposure might be best-suited for vinyl plank flooring, while hardwood can be installed in living rooms or dens. In other words, there's room for both hardwood and vinyl plank flooring in your home.
As is the case with any type of flooring, you'll get more mileage when you choose to work with skilled installation professionals. This is something we take to heart in all facets of our business. Ken Thieneman partners with the best in the business and provides the highest quality services for all his clients, from those who are more focused on budget to those that are looking for luxury options.
Our homes are popular because home buyers know that we always maintain the highest standard in the products we use and the people we work with. Ken has been building homes for 30 years and he has built a trusted network of contractors that deliver superior craftsmanship on time and on budget.
If you want to explore your flooring options, we can help you determine the best choice based on your budget and lifestyle. Contact Ken Thieneman today to get started on the home you've always wanted.