What is the Perfect Driveway Material for Your Home?
Having your own driveway is a bit of a luxury in the U.S. Of course, it might not feel very luxurious if you're currently staring out your front door at batch of gravel or grassy pavement. In fact, you might be considering how to up your driveway game to make sure your home is as beautiful as possible, or maybe you simply want to maximize the value of your property. Either way, rest assured that you're onto something.
Improving your driveway is a sure-fire way to make your property more aesthetically pleasing, while simultaneously keeping your vehicles clean and making your home the envy of your neighbors. We've seen how dramatically an amazing driveway can transform the look of a home, and we can tell you that there are many ways to go about the process.
From blacktop to concrete and all points in between, you have many options available. Some of the most common driveway materials include…
Concrete
Asphalt/Blacktop
Aggregate
Pavers
The important thing to remember is that there is no single best option for everyone. Each of the above materials comes with its own set of pros and cons. Let's take a closer look at why a homeowner might choose one of these options.
Concrete Driveways
Concrete driveways are more expensive than options like asphalt, but you get plenty of benefits from that investment. Concrete offers a clean, crisp look to your property, and it can last a long time. If you tend to have many vehicles (or heavier vehicles) on your driveway, then concrete has proven itself a worthy option to withstand whatever you throw at it.
Asphalt Blacktop Driveways
If you need a driveway quickly (and on a budget), you might prefer going with an asphalt blacktop driveway. Blacktop driveways can be installed quickly, and they won't break the bank. They are also relatively easy to repair if cracks appear. Another added benefit of asphalt is the retention of heat if offers, which is useful when small amounts of snow or ice appear in the winter.
Aggregate Driveways
Aggregate driveways are those that have a textured, pebble-like appearance, which they get from the use of stones or gravel (depending on the material used). Aggregate driveways can be pretty durable, and they offer a visually pleasing option for many homeowners. They do require more maintenance than straight-up concrete, but for many homeowners, the trade-off is worth it.
Pavers
Pavers are an ideal option for homeowners who are after the most stunning option. It comes at a cost to your budget. There are many different styles to choose from, and they can last for a very long time. If you're willing to pony up a bit more for pavers, you will be adding a great deal of curb appeal to your home.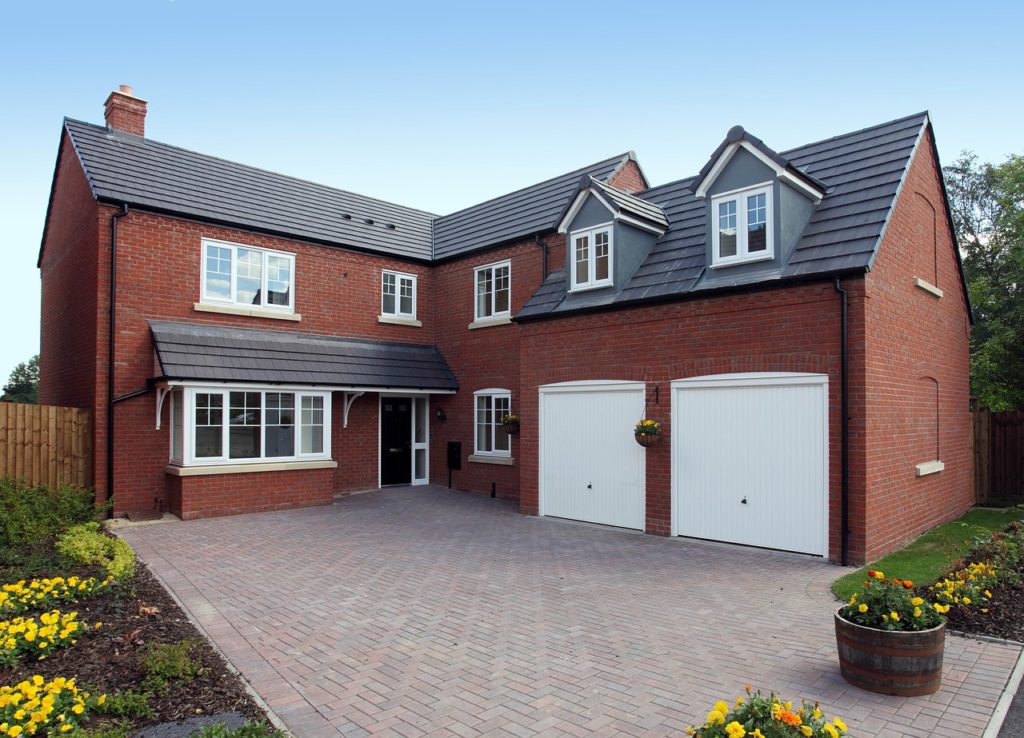 There are even more driveway options that we haven't covered here, including gravel, grass and variations of pavers and aggregate driveways. So, you do have plenty to choose from when choosing the material for your new driveway.
We love helping our clients make sense of their many options. We know that everyone's decision will be based on their own preferences, budgets and needs, which are factors homebuyers consider in many different choices they make in their homes.
If you're considering a custom home in the Louisville area, you should contact Ken Thieneman to learn more about our services. We have a reputation for building the highest quality homes, and many potential homebuyers don't realize that a custom home can be an affordable option, especially when you work with a reputable builder like Ken Thieneman.
Contact Ken Thieneman today to learn more about having the home you've always wanted.